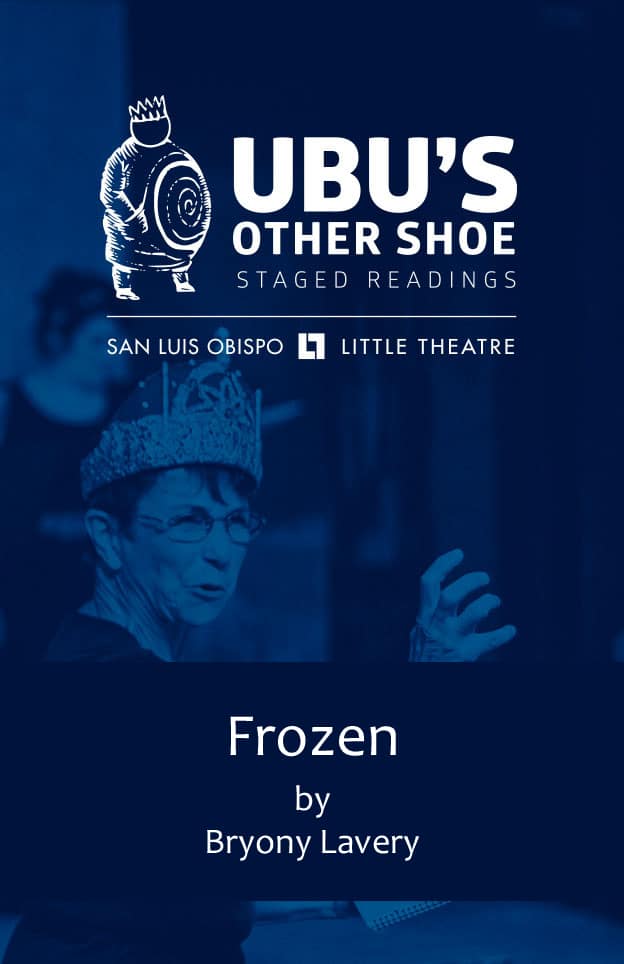 Buy Tickets
Frozen
Written by Bryony Lavery
Directed by Jill Turnbow
Artistic Direction by Michael Siebrass

Show Times
April 21 – April 22, 2017
 Friday @ 7 pm
 Saturday @ 2 pm & 7 pm

About
Please note: This is NOT Disney's Frozen.  This award-winning 2004 drama is recommended for mature audiences only.
One sunny evening, ten-year-old Rhona goes missing. Her mother, Nancy, retreats into a state of frozen hope. Agnetha, an American academic, comes to England to research a thesis on serial killers. Then there's Ralph, a loner who's looking for some distraction. Drawn together by horrific circumstances, these three embark on a long, dark journey which finally curves upward into the light. Angry, humane and compassionate, FROZEN is an extraordinary play that entwines the lives of a murderer, the mother of one of his victims and his psychologist to explore our capacity for forgiveness, remorse and change after an act that would seem to rule them out entirely.
What is a Staged Reading?
A staged reading is a form of theatre without sets or full costumes and props. The actors read from scripts, usually using music stands. They may be seated, stand in fixed positions, or incorporate minimal stage movement.
SLO REP's staged reading series is named after the infamous trilogy of plays written by Alfred Jarry that were banned from the stage after riots erupted on opening night. Ubu's Other Shoe pays homage to the spirit of Jarry and to all artists who strive to explore the fringes of their art. This exciting series exists to offer actors, directors and audience members an opportunity to experience incredible plays that do not necessarily fit into our regular main stage season. Thank you for taking this journey with us.
Reviews
A big, brave, compassionate play about grief, revenge, forgiveness and bearing the unbearable.
Oh my God. No! We don't want the playwright on the stage. There should be a law against that.
Consistently surprising and even bravely comic…The almost thriller-like promise of the play's climactic confrontation is like a time-bomb ticking in the back of your head.
Cast
Sponsors
Gina Kirk & Jim Solomon
Ubu's Other Shoe Season Sponsors
Wine Partner
Wine Partner
---
Presented through special arrangement with Dramatists Play Service, Inc.